Outing with family or friends
Reconnect, get away from the daily routine, take a breath of fresh air in the middle of nature, enjoy the weekend to spend time together in the company of harrowing witches and valiant knights... So many good reasons to come and live the adventure!
Fantastic and playful medieval treasure hunt, to be done in duet, trio, quartet, or in larger groups, divided into teams of up to 15 people.
Disguises are welcome!
The treetop adventure course is a sporty activity where you follow a path several meters above the ground.
Cross monkey bridges, take giant steps and launch yourself on a zip line, enjoy the height in complete safety, under the watchful eyes of our jovial woodcutter!
Book a table at the Tavern of the Pierced Barrel to share a snack together at the end of the adventure!
Bring your own picnic, or snacks.
For drinks, choose to bring your own or have them at the Tavern.
Celebrate your birthday at Sortilège, there is no better occasion to live strong and emotional moments with your friends or family!
For a unique experience, choose to be lead by an Anim'Actor, a character entirely dedicated to your group (maximum 15 people) throughout the adventure, for even more fun!
Characters: elves, warrior, troll, troubadour, fortune teller, squire of the royal guard...
Warning: does not exempt the presence of a minimum of 1 responsible adult per group of 15 children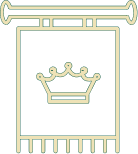 Season 2021: April 10 to November 7
Saturday and Sunday, from 1 pm to 6:30 pm
Wednesdays and Thursdays during school holidays, from 11 am to 5 pm
Departures for adventure:

Saturday and Sunday between 1 pm and 2.30 pm
Wednesday and Thursday between 11 am and 1.30 pm
Adjust your day the way you want it to be!
Welcome by an emblematic character upon your arrival, who will explain to you the rules of the game
Total duration of the adventure +/- 3h30 (4h30 if you do the tree climbing)
Picnic or snack
The adventure is recommended for children that are at least 4 years old.
However, children younger than 4 may accompany their family on the adventure free of charge.
Minimum height for the treetop adventure course : 1.50m with arms raised
Minimum 1 responsible adult per group of 15 children
The Spell14 € / person
The Spell + Treetop adventure course19,50 € / person
Children less than 4 YOFree
Anim'Actor 170 €
A table at the Tavern  15 €